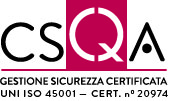 Another significant achievement as part of our HSE development plan!
Over the past few weeks a scheduled audit on the Dolzago plant has been performed by CSQA, also including Bonomelli Srl in the process of Occupational Health & Safety System certification (UNI ISO 45001:2018 standard) and Environmental Management certification renewal (UNI ISO 14001:2015 standard) for Gruppo Montenegro, which is now complete.
As in the case of Zola – Cannamela Division – and of the Montenegro Srl plants, we are particularly satisfied and proud of this further result, also because, here again, the Auditors at CSQA have complimented us for the effort made over the past few years, which has allowed the HSE Management System to grow and develop according to the requirements of Gruppo Montenegro.